Description
An innovative solution for those who want a USB-C docking station in addition to securing their laptop or notebook
Works with Windows PC's, Surface Laptop 3, and Surface Book 1 & 2; Windows PC's need to have a USB-C port that can deliver power to the device (from the dock) as well as transmit video (to the dock); check your devices specifications, it should accept Power Delivery (PD) and be capable of DisplayPort Alt mode
Provides 60W of laptop charging via PD 3.0; Dual DisplayPort++ ports support 2560x1440 @ 60Hz to a single monitor and 1920x1080 @ 60Hz to dual monitors; 2 USB-A Gen 1 ports and 2 USB-A Gen 2 ports; mic/headphone/speaker combo jack; gigabit ethernet port
K-Fob electronic locking mechanism works with laptops 11-15" laptops; included cable tether can be looped to any fixed option and is locked when the locking arms are engaged; replacement k-fobs available if lost
Plug & Play
Provides a seamless docking station experience for supported Windows 10 systems.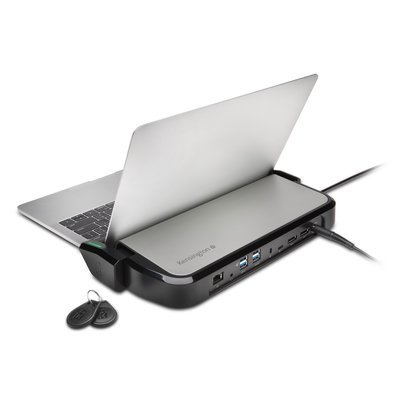 USB-C Connectivity
Transfer data (up to 10Gbps), video, and audio while providing up to 60W of power delivery* to USB-C enabled laptops for a simple plug and play experience. *Supported USB-C devices with PD function only
Dual 1080P Video Outputs**
Two DisplayPort++ ports enable video output connections to external monitors, TVs or projectors for Windows users. **Host device must support Alt mode over USB-C; Only for Windows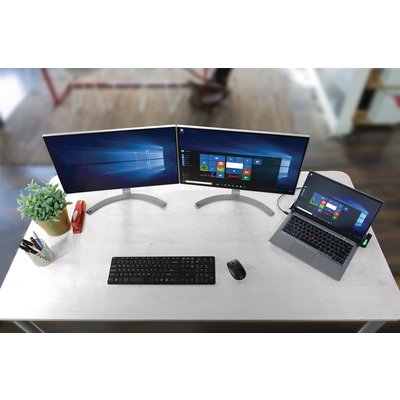 Productivity Ports
Connect to peripheral accessories via two USB-A 3.2 Gen 2 ports (10Gbps;5V/0.9A), two USB-A 3.2 Gen 1 ports (5Gbps;5V/0.9A), one 1Gbps Ethernet port, and a combo 3.5mm audio in/out port.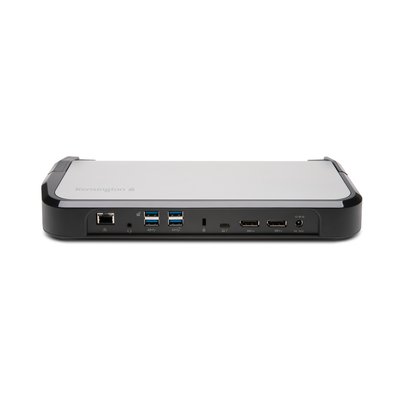 K-Fob™ Smart Lock Technology
Combining encrypted security with the simplicity of keyless locking, Kensington's K-Fob is the next generation of keying.
Professional Locking Design
Conforms to Kensington's industry-leading testing standards for durability, reliability and tamper-resistance. Designed to provide unobstructed access to the laptop's side ports so security doesn't interfere with productivity. Does not require any laptop modifications.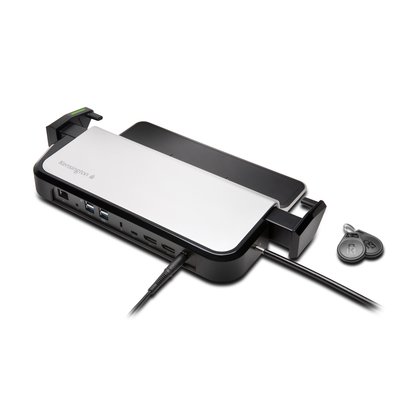 Adjustable Security Arms
No tools are needed to easily adjust the station to fit 11"-15" thin and light laptops.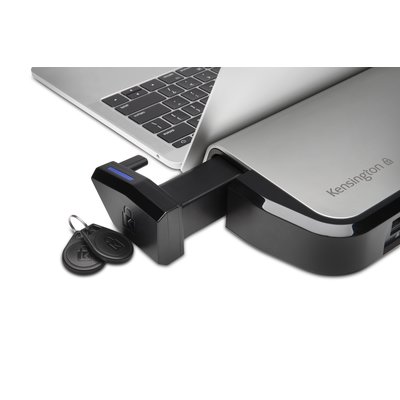 Scratch-Resistant Bumpers
The laptop rests on cushioned bumpers along the back and base to protect it from cosmetic damage.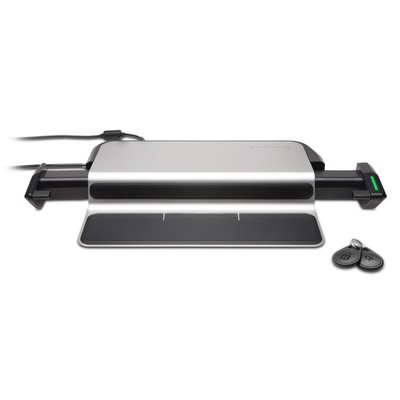 Flexible Security Options
The station can be secured to any fixed object using the removable tethered lock cable, or by using the built-in Kensington Security Slot with a cable lock, or permanently secured to a desktop using the pre-drilled mounting holes.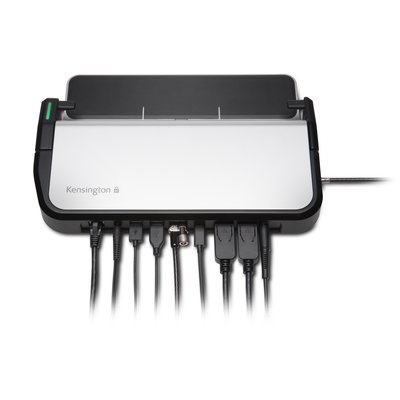 Register & Retrieve™
The industry-leading Register & Retrieve™ Lock Management Portal is a smart cloud-based platform for the management of all Kensington locks. Providing IT managers and users with individual accounts and on-demand access to support services, the simple key registration process helps ensure records stay up to date following personnel changes and offers free key replacements.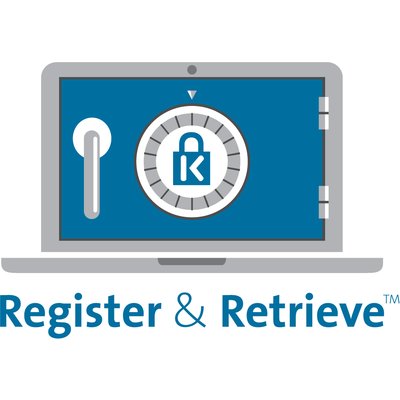 The LD4650P Single-User USB-C Dock with K-Fob™ Smart Lock combines Kensington's thoroughly tested universal USB-C docking technology with next generation encrypted digital laptop locking technology to deliver a game-changing 2-in-1 docking and locking solution for Windows users. Get more compatibility and productivity while reducing laptop theft and improving compliance with corporate security protocols. Secures thin and light laptops 11-15" in size, including models from Dell, HP, Lenovo and other manufacturers.
Best For: USB-C Laptops & Ultrabooks that support Power Delivery and Monitors that support up to 1080p
Connection Technology: USB-C Alt Mode
USB-C Power Delivery: Supports USB-C PD 3.0 (60W of laptop charging)
Compatibility: Windows 10
# of Monitors Supported: 2
Video Output: 2 x DisplayPort++
Maximum Resolution Supported: Single Monitor (2560 x 1440 @ 60Hz) and Dual Monitors (1920 x 1080 @ 60Hz)
Plug & Play installation without need for drivers or downloads
System Requirements: Host device must support Power Delivery and DisplayPort Alt mode over USB-C
Warranty: 3 Years
Apple M1 - While this docking station will work with the M1 MacBook, only a single video output is supported. For multi-monitor support on your M1 MacBook, see our Hybrid USB-C DisplayLink docking stations (ex: SD4700P, SD4750P, SD4780P or SD4900P) or USB-A DisplayLink adapters (DisplayPort K33989, HDMI K33988, DVI-I K33974).
Product Specifications
Connection Technology USB-C Alt Mode

Driverless

Yes

Additional Screen Outputs

2

Video Ports

DisplayPort++

Maximum Resolution

1080p

Power Delivery

60W

Operating System(s)

Windows

Number of USB Ports

4

USB Fast Charging

No

Docking Station Family

The Innovator

DockWorks

Yes

Lock Management

Standard

Best For

USB-C Laptops & Ultrabooks that support Power Delivery and Monitors that support up to 1080p

Compatibility

Windows 10

Lock Type

Standard Keyed

USB-A Ports

4 x USB-A 3.2 Ports (back) supporting 5V/0.9A (2 x up to 5Gbps and 2 x up to 10Gbps)

USB-C Ports

1 x: USB-C 3.2 Gen2 (rear) with up to 5V/3A

Audio

1 x 3.5mm Combo Microphone & Headphone Port (rear)

Data Transfer Speeds

Supports up to 10Gbps data transfer speed

Ethernet Speed (Mbps)

1000, 100, 10

Maximum Resolution Supported

Single Monitor 2560 x 1440 @ 60Hz and Dual Monitors 1920 x 1080 @ 60Hz

Mounting Option

Optional - permanently secure using the desktop mounting holes

Warranty

3 years

Plug & Play

Plug & Play installation without need for drivers or downloads

Security Slot Compatibility

Product includes tethered security cable and optional built-in Kensington Security Slot

System Requirements

Host device must support Power Delivery and DisplayPort Alt mode over USB-C

USB-C Power Delivery

Supports USB-C PD 3.0 (60W of laptop charging)

Video Output

2 x DisplayPort++