Description
The USB-C DisplayPort™ Alt-Mode Travel Dock is an ultra-portable tool for serious mobile professionals and road warrior presenters. It's built to connect to the equipment you'll find on the road, like projectors and TVs. It leverages DisplayPort™ Alt-Mode (compatible with Thunderbolt™ 3) native video so it'll connect with compatible USB Type-C DisplayPort Alternate Mode and Thunderbolt 3 hosts, and it supports up to 4K2K resolution.
If you're a mobile presenter, you're never quite sure what equipment you'll encounter when you walk into a remote site, classroom, or conference room. Even if you stuff your laptop case with adapters, you may arrive to find you've missed a key adapter. So instead of spending just a few minutes setting up, you lose several minutes scrambling to connect with whatever equipment is at hand.
Instead of cramming every adapter you can think of into your laptop case, you can slip just one compact dock into your bag. The integrated USB power cable tucks neatly into the dock. Worry about your presentation, not your technology, and add this lightweight, versatile USB-powered dock to your mobile gear.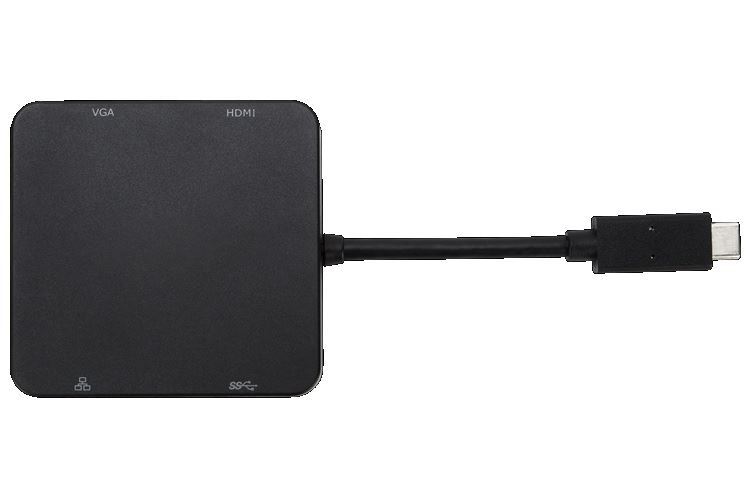 Ultra-Compact Design
The essential connectivity ports are packed into the size of a smartphone. And an integrated USB power cable folds neatly into dock, with no bulky power bricks or adapter cables needed.
Access the Internet Access
Connect to Internet via the travel dock's Ethernet port so that you can connect in nearly any boardroom or conference room without worrying about spotty WiFi.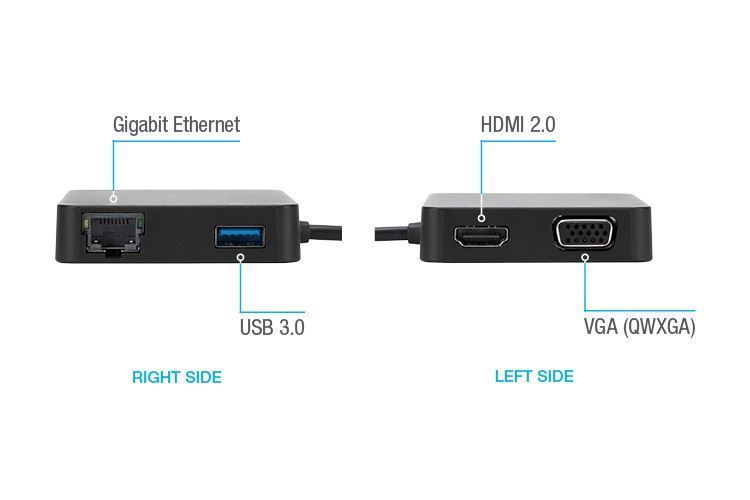 Connect to More
The integrated 5 Gbps USB 3.0 Type-A port allows for use with various USB devices and peripherals when you're on the go; or expand your options with a USB hub.
Features
Host-powered 90 mm tethered USB-C DisplayPort™ Alt-Mode (compatible with Thunderbolt™ 3) host connection
VGA up to 2048 x 1152 60Hz or HDMI2.0 up to 4096 x 2160 30Hz 24 bpp monitor connection
1 x USB 3.1 Gen 1 5Gbps (USB 3.0) Type-A port
1 x Gigabit Ethernet port
HDMI includes 6 (5.1) channel audio
Universal compatibility with popular Windows® and macOS™ platforms
Compact size that's ideal for travel
Specifications
1 x VGA Video Port
1 x HDMI Port
1 x USB 3.0 Port
WORKS WITH PCs and Macs
Windows® 10 or later, Mac® OS X 10.10.2 or later
DIMENSIONS : 6.35 x 6.19 x 1.60 cm (W x H x D)
WEIGHT : 0.04 kg
PACKAGE DIMENSIONS :14.68 x 4.16 x 21.97 cm (W x H x D)
PACKAGE WEIGHT : 0.15 kg
WARRANTY : Limited 3-Year Warranty

Download Product Specifications