Description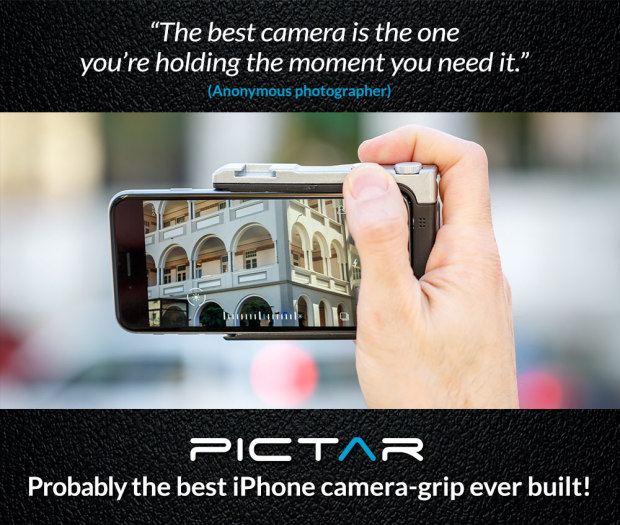 FROM DREAM TO REALITY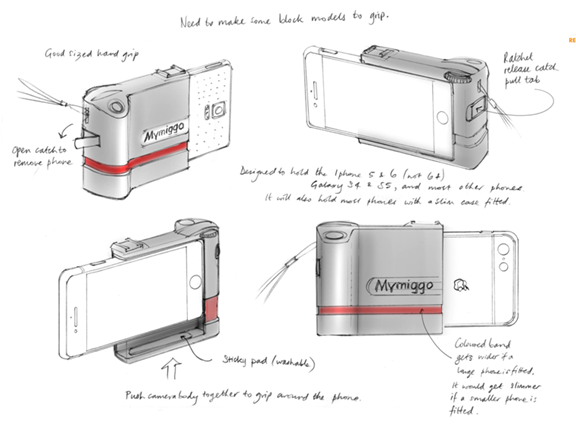 Eighteen months ago, Guy - one of the miggo partners - stole two hours of breathing space between meetings in New York to travel to the Ground Zero memorial site. Guy is an avid photographer but he left his DSLR in the office, so all he had on him to document the exciting site was his iPhone. The images he was able to shoot frustrated him to the point that he decided that the next miggo project will be an advanced grip-control for iPhone photographers.
Fast-forward 6 months: the miggo team prepare first sketches and begin to formulate designs. Very quickly we realized we were looking for a grip that will provide external control of the advanced and powerful iPhone camera. The process included searching for a suitable design concept of the Pictar body - one that resembled a camera without being too cumbersome.
At the same time we carried out a proper characterization of camera features which we would like to control externally: exposure, zoom, electronic shutter release, and more. Design took shape quite quickly - we knew from the start that it would look and feel like a classic camera. We examined a large number of sketches till we finally focused on the current direction. As you can see in the pictures, the process eventually led to the final result that we really love.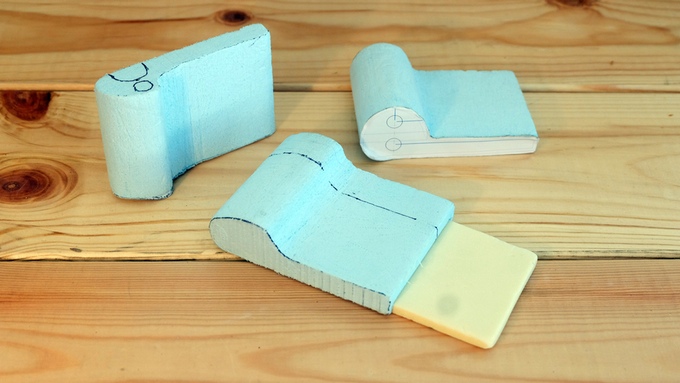 The next stage was the most difficult - how to make the external buttons operate the iPhone camera without a physical connection? The easiest solution - Bluetooth - was thrown out due to its tendency to "hog" power like there's no tomorrow, from both the iPhone itself and the grip.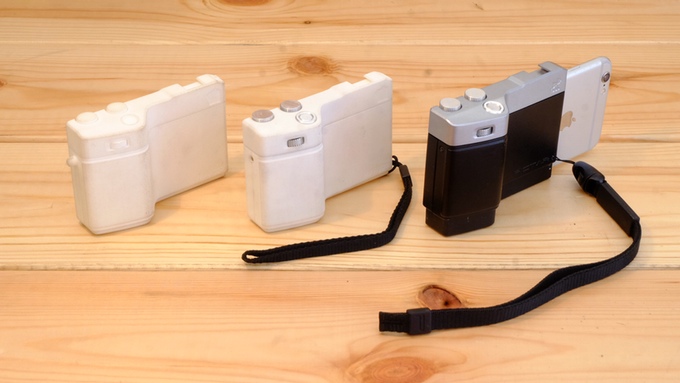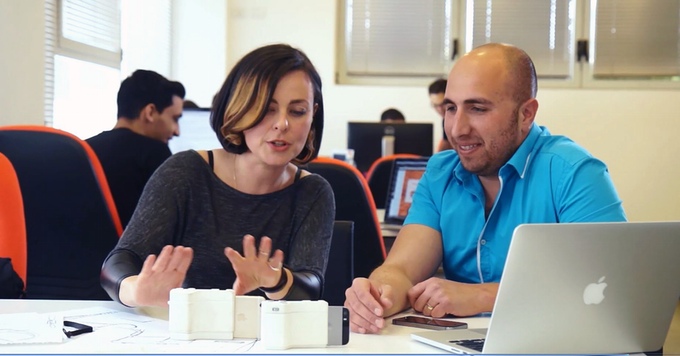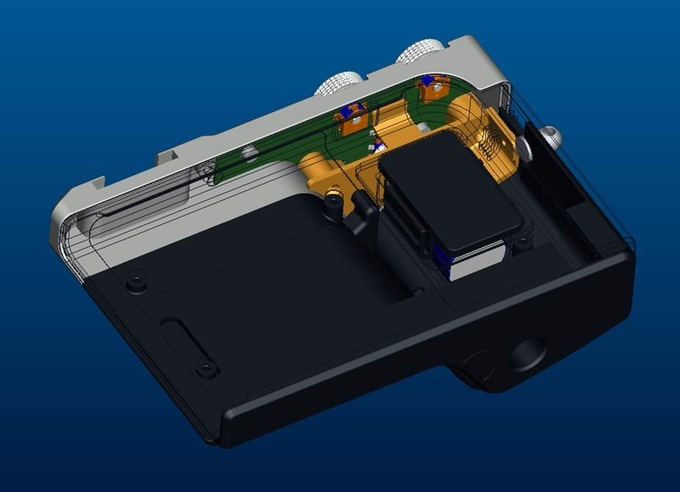 A surprising solution came from an engineer who worked with us - using high-frequency sound waves of 18500-20000 kHz. The idea is that each external control emits a dual frequency when operated, that isn't detected by the human ear. Frequency duplication distinguishes between the frequencies produced by Pictar and similar frequencies that exist in the environment, thus avoiding false commands.
The specialized operating system we developed receives the frequencies and translates them into an order that results in an action. The great advantage of the system is its zero power consumption. A standard CR ½ AA battery in Pictar can last for up to 6 months, with reasonable use.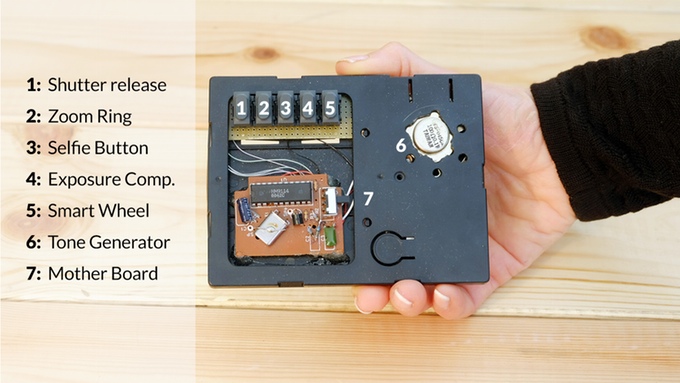 The picture above shows "Albert" - the experimental motherboard specially designed to simulate what Pictar knows how to do today. Clicking on each of the five buttons activating a high frequency which controlled the camera.
While developing the voice system, we designed a dedicated app in collaboration with one of the best companies in the country. The app - free of course - offers even more control in terms of what the iPhone camera allows.
We also added straps and a padded pouch to keep everything nice and safe, and we were ready to go. So this is it - we are ready to manufacture and hope for the best. Looking back - this past year was exciting, challenging and especially intense for the development team, but the result is worth it all.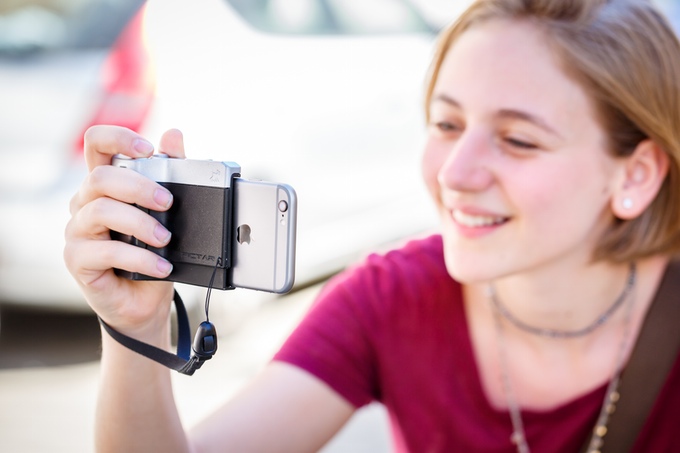 YOU MAY ASK WHO WE ARE AND WHY ARE WE HERE FOR THE 3RD TIME?! THANKS FOR ASKING!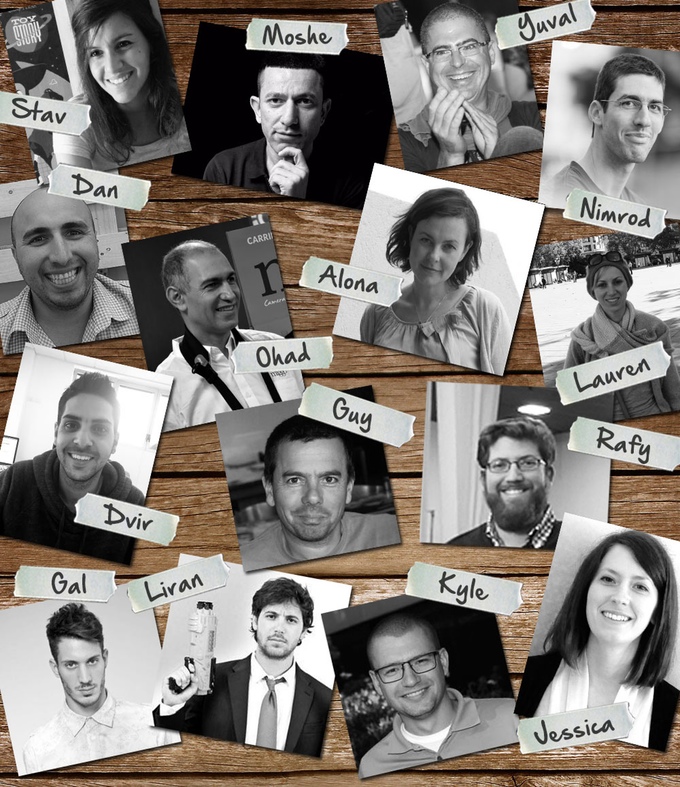 FRANKLY, WE BELIEVE IN KICKSTARTER.
We believe the crowd funding is the best way for a small and ambitious company like us to quickly and efficiently reach the people for whom we work so hard to develop breakthrough products.
WE LIKE TO LISTEN.
Kickstarter is a wonderful place to hear exactly what people think about your product - long before it reaches the market. Just think about it - this is the best, largest and most professional focus group in the world! Your knowledge is invaluable and what's really cool is that people are happy to share their knowledge and experience - to help developers like us bring to market products that might not have been developed using the traditional way.
These are just some of the reasons we're here for the third time. This, and the adrenaline rush the campaign gives us, after so much hard work developing a product that we totally believe in.
We were here 2 years ago with our strap&wrap - the world's first camera strap that morphs into a compact protective carrier. The campaign raised 400% above target and our young company received a huge infusion of energy to continue developing innovative products.
A year ago we were back again with agua - an ipx3 storm-proof quick-draw camera holster - this time we raised 800% of what we asked for, with only 2000 amazing backers. It gave us a lot of confidence and resources to continue.
In the 3 years that miggo has been around, we have developed over 10 new products with Kickstarter, and these products have been successfully sent to all backers and are also sold in over 30 countries around the world - in four different continents.